News
02-Dec-2010
Continuing the idea started in October of showing how is going the development in Monitorix 2.0, the following is a new list of the graphs implemented since the last post and their features:
hptemp.rrd
This graph has been rewritten completely and it now supports the latest version of the HP (Hewlett-Packard) System Health Application and Command Line Utilities for monitoring all the HP ProLiant systems (8.6.0 of 10-Sep-2010 at the time of writting).
Since the new generation of HP servers include a lot of temperature sensors, this new graph includes the ability to let you choose which ones you want monitor and in which place they must appear (following the standard Monitorix layout):
8 temperature sensors in the central graph on the left.
6 temperature sensors in the upper right graph.
6 temperature sensors in the lower right graph.
The following is a screen shot of the new graph: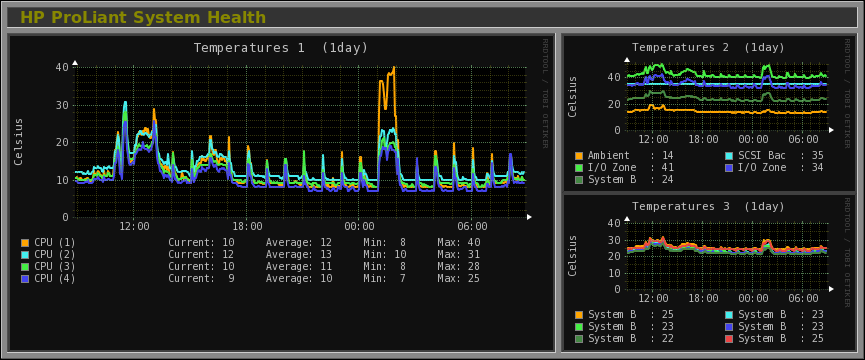 lmsens.rrd
This is the new name of the old
lmtemp.rrd
, and it also has been completely rewritten to hold a lot of new information. Due all of this the layout of this graph has been extented. The following is the list of its features:
32 Core temperature sensors.
2 motherboard and 4 CPU temperature sensors.
9 fan speed sensors.
12 voltages sensors.
9 GPU temperature sensors.
Currently the NVIDIA cards are the only supported for the GPU temperature sensors.
The following is a screen shot of the new graph: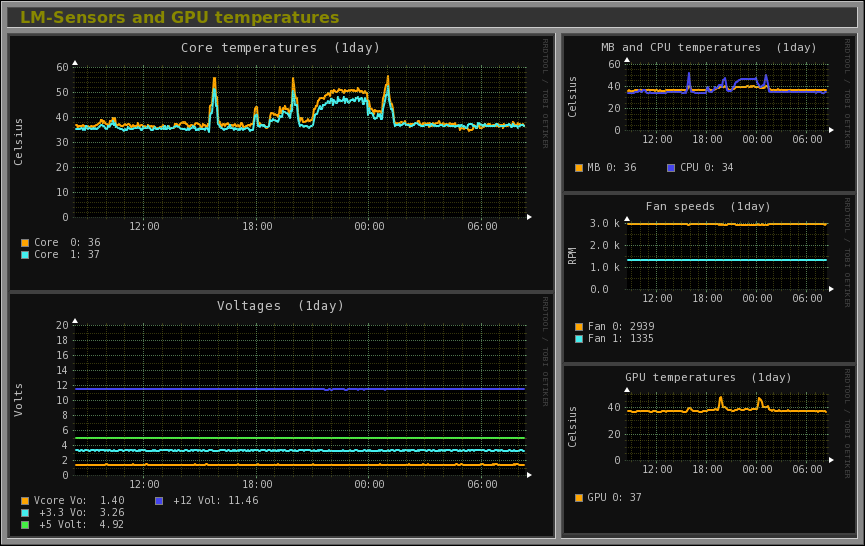 disk.rrd
This is a new graph that takes the name of what it was a different one. It now uses the
smartmontools
including the disk drive temperatures and the two most relevant health values; the Reallocated Sectors Count and the Current Pending Sectors.
Up to 9 disk drives monitored.
The following is a screen shot of the new graph:

fs.rrd
This is the same graph that was called previously as
disk.rrd
. It has been optimized its own internal structure and extended the number of supported mount points:
Up to 9 different mount points, plus root filesystem and swap space.
net.rrd
Nothing new in this graph, just the increment of the number of supported network interfaces:
Up to 10 network interfaces.